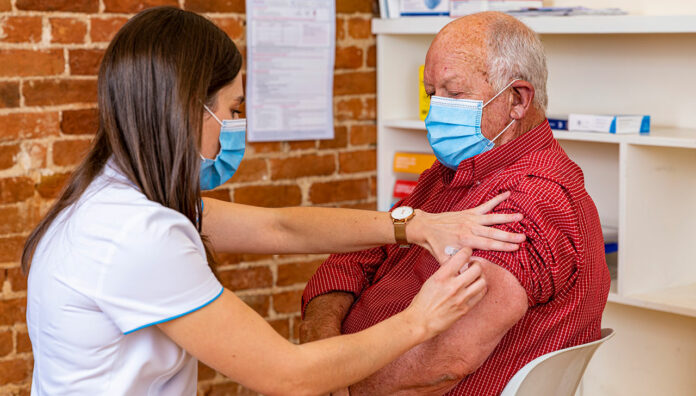 The Australian Asthma Handbook has been updated to help healthcare professionals provide advice to patients around the COVID-19 vaccine.
A key recommendation is to reassure patients with asthma (including severe asthma) and allergic rhinitis that their condition does not prevent them from having the COVID-19 vaccine or increase the risk of adverse reactions.
Professor Nick Zwar, Chair of the Australian Asthma Handbook Guidelines Committee, said the National Asthma Council Australia was encouraging people with asthma to get the COVID-19 vaccine as soon as it is available.
'Studies [of COVID-19 vaccines] have included people with asthma and there has been no evidence of increased rates of reactions to the vaccines,' Professor Zwar told Australian Pharmacist.
'And of course, now that rollouts are occurring en masse in some countries, such as the UK and US, surveillance in those larger populations shows there haven't been any signals of concern.'
Consultant pharmacist and asthma educator Debbie Rigby FPS said it is important for community pharmacists to reassure patients about the safety of COVID-19 vaccines.
'Authorities like the National Asthma Council, as well as the Chief Medical Officer, say that it's safe and appropriate for people with asthma and chronic obstructive pulmonary disease to get the COVID-19 vaccine, so we just have to emphasise to patients that the evidence says it's safe,' she said.
'It's also a matter of explaining that even though the development [of the COVID-19 vaccines] has been rapid, the right steps have still occurred, and there has been the rigour in making sure things are safe,' Professor Zwar added.
Asthma medicines advice
Healthcare professionals should encourage patients to continue using their asthma medicines both before and after they receive the COVID-19 vaccine, Professor Zwar said.
Patients should also be advised that monoclonal antibody therapies for asthma (omalizumab, mepolizumab, benralizumab and dupilumab) do not suppress the immune system or interfere with COVID-19 vaccines.
However, it is not recommended to receive this treatment and the COVID-19 vaccine on the same day, as this could make it difficult to identify the source of any adverse effects.
'If a patient had a reaction like a fever, headache or sore arm, separating the dose of these therapies from the COVID-19 vaccine will remove any confusion about the cause,' Professor Zwar said.
As patients typically receive monoclonal antibody treatments every 4 weeks or bi-monthly, Ms Rigby said pharmacists should advise patients to continue this therapy when it's due, and book in their COVID-19 vaccine accordingly. 
The updated Handbook also states that patients should not use nebulisers to administer inhaled medicines due to their propensity for spreading COVID-19, so pharmacists should advise them of alternative methods. 
'There is very strong evidence that using a metered dose inhaler plus a spacer is just as effective as a nebuliser, so it's important to emphasise this to patients or parents of children with asthma,' Ms Rigby told AP.
Some patients with asthma will not be in the earlier priority groups for receiving the COVID-19 vaccine, so Professor Zwar recommended they discuss the optimum time to receive their influenza vaccine with a healthcare professional.
'Healthcare professionals should reassure their patients with asthma that they don't need to wait until they have the COVID-19 vaccine to get the flu vaccine,' he said.
'Given that supply of COVID-19 vaccines is limited, it is likely that flu vaccine will become available first.'
'Again, it's a matter of timing,' Ms Rigby added.
'Pharmacists should be helping people understand the timing of all of these vaccinations, as well as their medicines.'
Prevention and other recommendations
As we approach another winter during the COVID-19 pandemic, and with flu season kicking off, the Handbook also recommends patients continue taking their preventer medicines.
Adherence to corticosteroid-containing medicines (regular preventers, as-needed combination relievers, or maintenance-and-reliever therapy) will reduce the risk of asthma exacerbation or flare ups.
'We know that for many people, having a virus such as influenza is a trigger for their asthma,' Ms Rigby said.
'So coming into winter, and potential flu season, they should be taking their medicines, preventers in particular, as prescribed.'
'It's also important to remind patients not to rely on their relievers, Ms Rigby said.
'Many adults and adolescents with asthma do over-rely on relievers, particularly over-the-counter salbutamol,' she said. 
'Pharmacists have a real responsibility to help people understand the risk associated with that over-reliance, as it actually increases the likelihood of having an exacerbation or flare up.' 
Other recommendations include:
ensure all patients have an up-to-date asthma action plan and that they understand how to follow it

advise patients to ensure they have access to all the medicines listed in their action plan

advise patients that they should have their own asthma devices and not to share inhalers or spacers with anyone else

spirometry or peak expiratory flow should not be performed on patients with symptoms of respiratory or other viral illnesses, fever, or other acute respiratory conditions.
For more information on the updates, view the section Managing asthma during the COVID-19 (SARS-CoV-2) pandemic in the Australian Asthma Handbook.