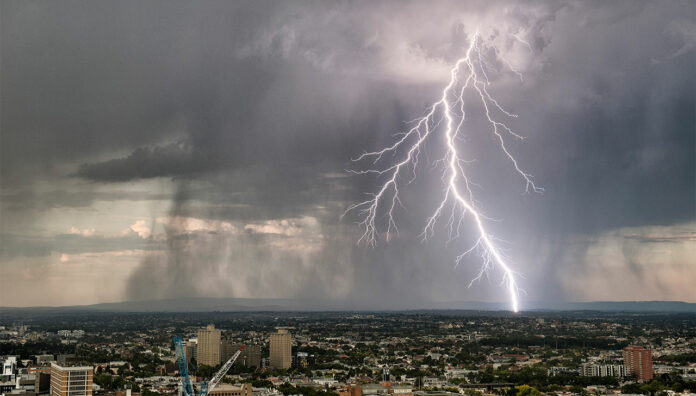 A 'perfect storm' is in the works in Victoria, with dangerous weather conditions and the impacts of COVID-19 potentially combining to wreak havoc in the state.
High pollen counts, stormy weather and humidity could lead to another catastrophic thunderstorm asthma season, experts have predicted.
Victoria was placed on high alert late last week, as wild storms lashed the west of the state.
Risk levels were elevated in Wimmera, Mallee and the South West, prompting the government to implore residents, particularly those with allergic rhinitis and asthma, to stay indoors.
After four epidemics, Melbourne is considered the 'thunderstorm asthma capital of the world'. But other jurisdictions, such as New South Wales and the ACT, are also at risk.
On 30 October 1997 in the NSW Riverina city of Wagga Wagga, there were 215 emergency department (ED) visits, 41 hospitalisations and 2 intubations following a significant thunderstorm asthma event. Observational studies have also indicated that on days when there is thunderstorm activity, ED presentations for asthma cases increase.
Top tips for thunderstorm asthma events
According to the

Victorian Department of Health

, patients with current, past or undiagnosed asthma or those with

allergic rhinitis should:

avoid exposure to storms, especially the preceding wind gusts; always have a reliever and take preventative medicines as directed; revise their asthma action plan and know the four steps of asthma first aid.

If a patient's condition deteriorates, they should call triple-0 or attend hospital.

The epidemic thunderstorm asthma risk forecast can be

monitored

on the

VicEmergency app

.

The Department of Health will provide up-to-date advice on the

VicEmergency warning platform

when risk levels are elevated.
While much has been learned about the cause of thunderstorm asthma events and how to protect the community, there is a new set of problems.
There are three core areas of concern this season, warns Deakin University environmental allergist Professor Cenk Suphioglu: wet, stormy weather throughout November will lead to grass growth and a higher pollen count; reduced immunity due to COVID-19 infection could make people more susceptible to asthma attacks; and the healthcare system remains under pressure.
'Due to COVID-19 cases and hospital admissions on the rise, now more than ever, people must take charge of their health,' Prof Suphioglu said. 
'Don't rely on the strained ambulance and hospital systems to come to the rescue because by then, it might be too late.'
History repeating
After the catastrophic thunderstorm asthma event in Victoria in 2016, in which 10 people died and 12,000 presented to emergency departments, Melbourne-based pharmacist Rati Ram MPS keeps a close eye on the weather forecast.
'We make sure we have enough stock, particularly Ventolin and spacers,' Mr Ram told Australian Pharmacist.
During the 2016 event, Mr Ram and his team tried to screen patients as much as possible. 
While some may have come in because they were frightened '[others] we thought really required more intervention,' he said.
'A lot of people were getting asthma symptoms that [had] never had it before as well.'
Thunderstorm asthma is particularly dangerous for people with poorly controlled asthma, but it can affect anyone, Prof Suphioglu said. Symptoms include breathlessness, chest tightness, wheezing or coughing.
'Anyone with a history of grass pollen allergy together with asthma or respiratory conditions should stay indoors if a thunderstorm asthma event is occurring,' Prof Suphioglu added. 
National Asthma Council Australia director and respiratory physician Professor Peter Wark advised at-risk residents to check daily pollen counts in their region.
'Avoid exposure to outdoor air when a thunderstorm is approaching, especially during wind gusts just before the rain front hits,' he said.
'If you can, stay indoors with your windows closed and the air conditioner off or on recirculation mode, or if driving, shut your car windows and only use recirculating air.'
How pharmacists can prepare for thunderstorm asthma season
After months of lockdown, respiratory medicines use expert Professor Sinthia Bosnic-Anticevich MPS said the baseline of good asthma control and management was more important than ever.
'Now is the time to be proactive [and for] pharmacists to review the asthma status of each of their patients,' she said.
This includes assessing symptom control, risk of exacerbation/flare up, use of preventer medicine and inhaler technique.
'Pharmacists should ask when the patient last had their asthma reviewed by their doctor to ensure their management plan is current, and to check whether the patient has an action plan and they know how to use it,' Prof Bosnic-Anticevich said.
During lockdown, not all patients had access to GPs, while others may have chosen to avoid healthcare settings.
Pharmacists should therefore inquire if patients with asthma need to get a review with a GP now.
'It's really about going back to basics and making sure that every patient who has asthma is reviewed,' Prof Bosnic-Anticevich added.
Emergency asthma advice
As a precautionary measure, Mr Ram reminds patients with asthma to have their relievers on hand at all times.
And to prepare for an emergency, Prof Bosnic-Anticevich said pharmacists should upskill in asthma first aid. 
The National Asthma Council has information about the signs and symptoms of asthma emergencies, along with the steps to take.
For patients who use relievers such as Ventolin, pharmacists should sit the person down, give them four puffs of their reliever, wait four minutes and then call an ambulance if they still can't breathe normally after another 4 puffs.
There are also instructions for patients who use spacers and anti-inflammatory relievers.
But before it gets to that point, Prof Bosnic-Anticevich emphasised the need for early intervention.
'One of the things we struggle with is that a lot of people have asthma symptoms [that] are not optimally managed at any one time,' she said. 
'So you're getting this thunderstorm asthma trigger on top of a baseline of suboptimal control.' 
While pharmacists should be conducting a 'mini review' of all their patients with asthma, Prof Bosnic-Anticevich said they should also be on the alert for people who come in for allergic rhinitis treatment.
According to research published in the Internal Medicine Journal, just over half of the individuals hospitalised during the 2016 event 73.5% had a history of allergic rhinitis.
Prof Bosnic-Anticevich recommends pharmacists ask their patients with allergic rhinitis about triggers during spring, particularly if they have a known allergy to ryegrass, to determine whether they have symptoms suggestive of asthma.
'Some individuals may not have a diagnosis of asthma but should be referred to their GP for a review,' she said.
'This is something that only a pharmacist can identify as most patients purchase their allergic rhinitis medications over the counter.'