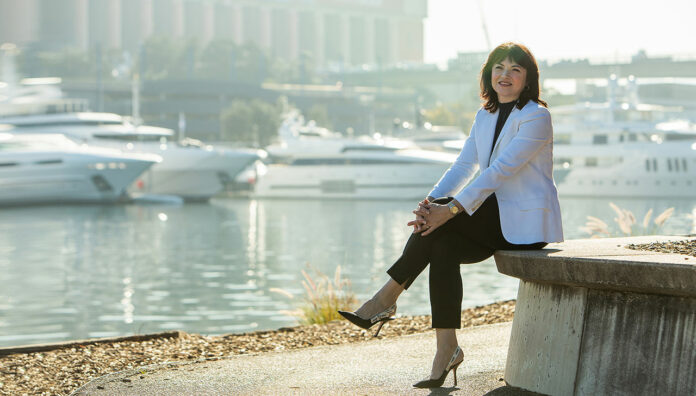 Professor Sinthia Bosnic-Anticevich MPS is a respiratory pharmacist who has helped change the clinical care of chronic respiratory conditions as Research Leader at the Woolcock Institute of Medical Research and the University of Sydney.
What
sparked your interest in pharmacy?
Initially I was enrolled in a Bachelor of Information Technology at the University of Technology Sydney but, coming from a family of healthcare professionals, I guess I got cold feet and switched to a Bachelor of Pharmacy. I am not the type of person to ever look back.
Can you describe your career path?
Traditional for an academic, though it didn't start out that way. I thought I was going to be a hospital pharmacist, but got drawn into the research and didn't think twice about doing a PhD.
My first full-time job was in the pharmaceutical industry, and I saw a successful future there. But 5 years later, a new academic position came up at the University of Sydney's then Faculty of Pharmacy. In those days [1999] there were very few people with PhDs in pharmacy practice, but that is what they were looking for and that is what I had.
How did you develop an interest in respiratory medicines?
It was circumstantial. The academic who was my role model was a respiratory researcher, and I wanted to be just like her. One can never underestimate the importance of role models in shaping careers. I am so grateful to mine.
What is different after your research?
My research has established the 'gold standard' for inhaler technique assessment and training, influenced inhaler prescribing policy and the development of asthma, COPD and allergic rhinitis management guidelines.
'Being a research leader is like being a businessperson, where your product is new knowledge generation, dissemination and impact.'
It has led to the development of tools to support both patients and healthcare professionals in delivering optimal care around inhaler use. Through partnerships, collaborations and consultation with industry, my research has influenced the development of digital inhalers, which are set to be the next big advance in inhaler use and self-management.
What would other pharmacists find surprising about your role?
Firstly, the extent of the impact you can have as a researcher. The extent to which you can influence the health of individuals, society and health policy both nationally and globally is just amazing. Secondly, the high level of control you have in developing your area of research and expertise. And finally, the particular skill set you need to run a successful program of research. It requires a broad range of transferrable skills.
I often say that being a research leader is like being a businessperson, where your product is new knowledge generation, dissemination and impact. You are responsible for innovation, productivity and the financial sustainability of your team. You need to enjoy leading, mentoring and problem solving. You need to know how to get maximum return on investment.
It is such an exciting role. I love it.
What topic will you be addressing at PSA21?
I will be discussing the latest trends around the use of medicines in asthma, COPD and allergic rhinitis and the unique, effective and efficient solutions that only pharmacists can provide. Knowledge gaps are around patient behaviours, hidden disease burden, shifting approaches and new guidelines. It is an exciting time in respiratory medicine. I would like attendees to be better prepared to identify the hidden problems and deliver unique, targeted solutions, efficiently and seamlessly.
What do you see as the future of pharmacy?
As always it depends on our ability to evolve and drive change, and there will be challenges. I see it involving a digital, data-driven approach, the delivery of efficient, pharmacy-specific, sophisticated care and financial models that are sustainable and reward pharmacists for the unique, fundamental contribution they make to the health and wellbeing of our nation.
Don't miss Professor Sinthia Bosnic-Anticevich speaking at PSA21 on Saturday 31 July.