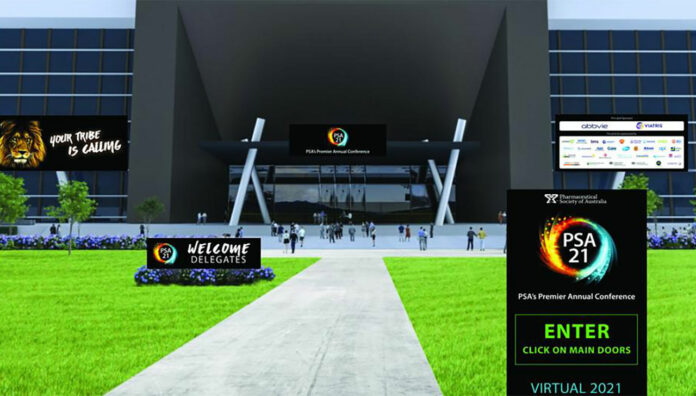 The opening day of PSA21 Virtual didn't disappoint, with a packed program of education sessions, a powerful keynote and plenty of networking opportunities for attendees.
If you missed out on the action or simply want a recap, we've pulled together some highlights. And don't forget it's not too late to register for Days 2 and 3 of PSA21 Virtual. 
Federal Minister for Health and Aged Care Greg Hunt officially opened the conference, thanking pharmacists for their work 'right across the community' during the pandemic.
Looking to the future, he said pharmacists have a 'vital role in supporting and protecting older Australians' following the Royal Commission into Aged Care Quality and Safety.
This includes 'making sure we have quality use of medicines, safe use of medicines, and that there is no chemical restraint,' Minister Hunt said.
'Where appropriate medicines are appropriately prescribed and dispensed, that's a different matter. But where these medicines had been used in the past, simply as a means of effectively restraining somebody – that's not a quality use of medicine.'
This theme was continued in the 'Medicines nightmare in aged care: where are the pharmacists?' session, with pharmacist and Member for Dobell Emma McBride MPS setting out some stark statistics.
Australians over 65 years of age make up just 15% of the population, yet they accounted for 42% of the 11.3 million episodes of admitted patient care in 2017–18, Ms McBride said.
'It's estimated that 30% of all hospitalisations of older people are medication-related, and approximately half are preventable, which is where we as pharmacists have a key role,' she added.
Pharmacists are central to aged care – should be viewed as an investment not a cost @Emma4Dobell #psa21virtual pic.twitter.com/XHVoHSUpcu

— Debbie Rigby (@DRugby56) July 30, 2021
PSA21 Virtual social scene
In between education sessions, which also included presentations on primary care reform, hospital-initiated medication reviews and supporting patients in rural and remote Australia, attendees had the chance to talk to exhibitors at the virtual exhibition and connect with colleagues during engagement breaks. 
Lots of the PSA21 tribe also got busy taking selfies for the photo competition. Don't forget to upload your own photo with #PSA21Virtual to social media to enter. There are some great prizes up for grabs!
Here are some of our favourites so far.
Fifi (short for fexofenadine 😉) is ready for #psa21virtual ! @LivCollenette @PSA_National pic.twitter.com/T2jR6SGhlE

— Erin Cooper (@misserin_c) July 29, 2021
Looking forward to my Hospital-initiated Medication Review #HIMR presentation at #PSA21Virtual. Grateful for the opportunity @PSA_National Hear me roar 🦁 #calltoarms #SHPATransitionCare pic.twitter.com/2Ol5hf2MhD

— Manya Angley (@ManyaAngley) July 30, 2021
My #tribe today at #PSA21Virtual – 5 guppies, 1 betta and lots of plants ;P pic.twitter.com/8yCKl8VHVd

— Anna Barwick MPS (@IndispensablePh) July 29, 2021
We're all settled in for a great day of virtual learning #PSA21VIRTUAL pic.twitter.com/pzmGZVkMY1

— Olivia Collenette (@LivCollenette) July 30, 2021
Stay tuned for day 2
More happened on the first day of PSA21 than can be contained in this article, but other highlights included the Early Career Pharmacists forum, Pharmacy Shark Tank and the Pharmacy Student of the Year competition. We'll recap those in full tomorrow.
But that's not all there is to look forward to. PSA21 Virtual Day 2 brings another great line-up, including the Allan Russell Oration Keynote (9 am), given by thought-leader and speed painter Sarah Rowan, a digital health update (10 am) and sessions on the pharmacist administration of depot buprenorphine (11 am), mental health during pregnancy (1.15 pm), pharmacist prescribing (11.45 am) and immune disorders in dermatology (2.45 pm).
Click here to view the full PSA21 Virtual program and to register.