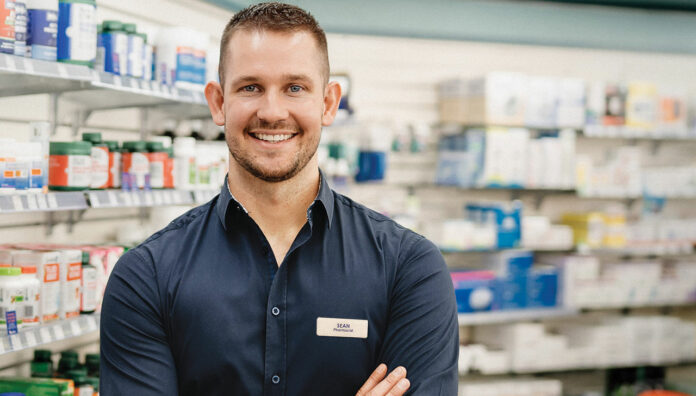 Two slipped discs on a construction site led to Sean Richardson's unusual career segue into the pharmacy profession.
Wa
s pharmacy always your first choice as a career? 
Not completing Year 10 led indolently into the laborious side of the construction industry. Years on, I injured my back and had 3 months of rehabilitation – a blessing in disguise. I was encouraged to attend a university open day, which led to a Foundation Studies course (UniSA College), uncovering an appetite for learning, which led to a Bachelor of Pharmacy (Honours).
How did you find your 'mature age' student experience?
Approaching tertiary study felt heavy – the age difference and sensation of being 'behind' helped shape how I managed my time. Networking with the university student group (South Australian Pharmacy Students' Association), attending conferences by the National Australian Pharmacy Students' Association and PSA, and becoming involved in the industry early was a priority. They were the building blocks to later career steps. 
Employment early in my degree was key for the student-to-pharmacist transition while enjoying guidance from some of the best clinical, managerial and owner pharmacists in the profession.
Hear more from Sean in the podcast episode below:
What attracted you to locum work? 
Two factors contributed: career progression options and remuneration. Looking at the role of a pharmacist in a logical sequence, experience is defined by environment, time and opportunity. So if I pursued constant new areas of learning, challenges and scope expansion, I would find myself upskilling quicker than working within the confines of one place.
Initially, it was confronting; the buck stops with you. In most locum roles, you are the sole pharmacist thrown in the deep end, expected to provide an accurate and professional service in a completely new setting. While challenging, your level of adaptability increases 10-fold, with new dispensing programs, medication familiarity and use patterns, servicing structures, team operation styles and pharmacy cultures.
Self-development as a pharmacist becomes constantly progressive, allowing positive change implementation. Locum positions are usually structured to allow convenience and a 'slot in' nature for the pharmacist. In most cases, travel costs, accommodation and car use are provided additional to fair remuneration ($45–$80 per hour plus superannuation, depending on urgency/location/duration/skill set and other factors).

What are some memorable experiences?
My first locum trip was to Coober Pedy via Greyhound bus (11 hours). I arrived late evening to no visible locals, no Vodaphone reception and a disappearing bus. I took the plane back on my return journey!
In Mt Isa one day, a very country-proud, Akubra-wearing customer wanted to know why I wasn't wearing R.M. Williams boots, as he compared my brown generics with his polished black pair. I got some on my next trip back to Adelaide! No hat though.
What are the key challenges for pharmacy in regional Australia?
Access and consistency. Communication channels between community groups, hospitals, pharmacies and medical centres are crucial, with healthcare workers required to forward-think most decisions, especially for the Indigenous community, where patient location and movement timeframe plays a large role in medicines access. 
Healthcare worker turnover is generally high, and adjusting to the setting can be difficult for new professionals. 
Rather than position/employment satisfaction, recruiters need to dive deeper to a personal level. 
Understand interests, lifestyle, social factors, family commitment/intentions and sense of community for an individual. Greater consideration needs to be taken to employ rurally, equal to that of those contemplating to venture.
What advice would you give to other early career pharmacists (ECPs)?
ECPs are commonly influenced by their immediate first experiences, but should note that their initial pharmacy may not be the staple representation of the industry – the diversity is extensive. 
Challenges and constant developments await in the journey ahead. Don't have any goals? That is step 1. Be resourceful. Seek opportunities, responsibility and be accountable. Aim to add your value. 
Day in the life of Sean Richardson MPS, locum pharmacist in Bundaberg, QLD.
Heading into a new position – 6.00 am
Queensland sunrises (after moving from Adelaide) make exiting the pillow light work, even after trekking 620 kilometres the day before to accommodation. Bundaberg has a population of 93,000, but there's minimal traffic, no line-ups and friendly service!
Head start – 8.15 am
Arrive 15 minutes early at the pharmacy to get acquainted with the new team; introductions and quick adaptions to follow. Navigate around the store, dispensing systems/POS, dispensary procedurals, staff roles, individual pharmacist expectations; become familiar with surroundings.
Familiarisation process – 8.30 am
Burrum Street Pharmacy (Bundaberg West) runs a tight boat with a Schedule 8 Maintenance and Opioid Replacement Therapy program providing suboxone services. Start the day with a stock check on the Schedule 8 safe and prepare for pick-ups. Staff guidance is crucial to getting up to speed to maintain expected level of service and accuracy. Ask lots of questions of the experienced team, which knows the community and customers and guides operations.
Taste test – 9.30 am
Discussions on antibiotic dosing for an extremely picky 2-year-old patient uneasy about the taste of medicines. 'We've tried all of the flavours!' Non-pharmacological advice is as important as medicinal; by placing the plastic syringe down the side of the tongue when administering to avoid tasting, junior had no time to think otherwise.
Multitasking – 11.00 am
It can be challenging to safely juggle the competing priorities of scanning over DAAs as well as script checking between two dispense technicians. Usually I dispense high script volume in other roles, but in this store technicians dominate.
Lunch, as such – 12.00-2.00 pm
Sole pharmacist lunches are as social as it gets – in the dispensary! Somewhere in between, I wolf down a quick microwave meal via fork or straw, whatever is at hand.
Migraine medicine options – 3.00 pm
Patient requested paracetamol/ibuprofen (Nuromol) for migraine, while taking eletriptan (Relpax). Discovered patient was directed to take additional Relpax even if first tablet failed (secondary dose unlikely to be effective if initial has failed). Further talks highlighted gastric stasis symptom of migraine and reduced tablet absorption. Recommended dissolvable aspirin and paracetamol as alternatives.
Local culinary delights – 5.30 pm
Time to close up with attempts to put the right code in the alarm. Head for the gym and dinner at a local restaurant.