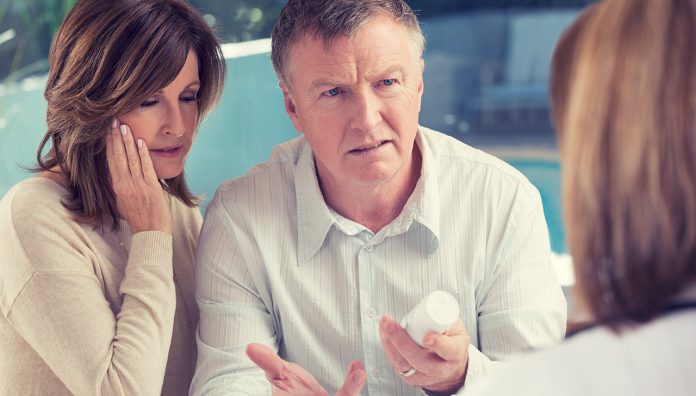 Pandemic panic buying and stock shortages have fuelled abusive behaviour.
Violent and threatening behaviour including punching, spitting and throwing objects at pharmacy staff has escalated with anxiety levels over the past few months, as coronavirus infection rates spiral upwards and demand for pharmacy supplies remaining high.
Anecdotal reports of self-isolating 'escapers' who enter pharmacies also abound. Government-imposed restrictions on some medicines, and new distancing measures introduced by pharmacies have exacerbated tensions for some consumers leading to often daily verbal abuse for exhausted pharmacists. And for some there are robberies on top.
A pharmacy in Sydney's Burwood had cash taken by man allegedly armed with an imitation pistol recently, several Gold Coast pharmacies were robbed and in Perth a man was caught on CCTV fleeing a Koondoola pharmacy after allegedly stealing medicine while armed with a knife. But police investigations take time, repairs and replacement of missing stock is costly, and insurance claims can mean higher premiums.
Aggressive consumers wanting quantities of 'just in case' medicines amid COVID-19 panic has added considerably to workplace stress. The recent exponential upswing in virus infections was preceded by panic buying of hand sanitiser, tissues, 3-month supplies of prescription medicines and, where available, toilet paper.
Ash Agaibey, the owner of Townville's Belgian Gardens Pharmacy, which was robbed in March this year, said his staff had declined offers of counselling after being threatened by a person with a concealed weapon in a bag.
Mr Agaibey said his manager had immediately put new systems in place and 'upskilled and trained' staff in their response to an armed robbery. This training had been incorporated into general guidelines being followed by pharmacists in response to the COVID-19 crisis.
His staff did not appear to have any post-event stress issues and, since the robbery, had been dealing capably with the added pressure of higher demand for medicines and products during the pandemic.
'Everyone is under stress,' he said. 'But since the robbery, apart from a verbal incident with a dissatisfied customer, we have very nice customers who understand the current situation.'
Trauma for staff
A 2011 study of 248 Australian community pharmacists – the most recent of its type – found more than 90% have witnessed or experienced some form of violence in the previous year, and one-third had experienced violence in the previous month.1 With psychological impact often severe on traumatised staff, about 10% of those involved in pharmacy robberies changed employment to another location.1
And while crime data shows assaults and threatening behaviour at community pharmacies has increased over the past decade, robberies and break-ins are down. Crime statistics for community pharmacies in Victoria, show robberies are down 64% and break-ins down 74% since 2011.2
It's a similar story in New South Wales (NSW) over the past 5 years but NSW Police Assistant Commissioner Paul Pisanos told Australian Pharmacist there was no identifiable direct link to the decrease.
'Various unidentified factors including target hardening, Crime Prevention Through Environmental Design (CPTED) precepts, increased surveillance and community reporting may have contributed to the prevention,' he said.
South Australia Police community engagement coordinator Senior Sergeant Neil Hodgson said multiple factors were involved in a decrease there. 'Increased awareness, education and greater emphasis on store layout may have had some part in the reduced statistic.'
There has also been more use of credit and debit cards, especially now with pharmacies refusing cash due to the coronavirus infection risk.
'Reduced cash on premises and better security increase the likelihood of offenders being caught for little reward,' Snr Sgt Hodgson said.
Despite the lower statistics, pharmacies should maintain constant security and staff training reviews, he warned. Last month, NSW Police Commissioner Mick Fuller urged any workers being spat at, particularly threatening coronavirus contagion on essential workers, and for which there have been several recent arrests, to report it.
WHAT POLICE ADVISE
stay calm
avoid eye contact
do exactly what the offender says
take mental notes about the appearance, voice, and prominent features of the offender/s
never chase offenders or take drastic action
activate alarms, when safe
call 000.
Improvement
The lead author of the 2011 pharmacy robbery study, Distinguished Professor Gregory Peterson, Professor of Pharmacy at the University of Tasmania, thinks the decrease in robberies and break-ins is partly due to better security and deterrents, like closed circuit television (CCTV). He was not surprised threatening behaviour and assaults had increased.
'Pharmacies are open long hours, they 'control' access to drugs, are often the meat-in-the-sandwich when applying government-determined PBS and poisons regulations – and pharmacy staff are readily accessible, so it's not surprising they are a target,' he said.
Today there is anecdotal evidence of better reporting of robberies, break-ins and violent incidents, and more support for pharmacists and staff than previously.
His biggest concern is the reluctance of some pharmacy owners to take action to protect staff. 'They are worried about losing customers or having police visit the pharmacy, or even don't want to close the pharmacy after a robbery to allow for an investigation,' he said.
Recent robberies and attempts
Last November, a NSW man was sentenced to 3 years in jail after holding a steak knife to a pharmacist's throat at Blooms the Chemist in Bathurst, NSW, in March, 10 months earlier. In February, a Brisbane truck driver foiled an attempted armed robbery at a pharmacy in Logan, Queensland, pinning the thief to the ground until police arrived.
NSW Police, meanwhile, are still looking for a 'Bonnie and Clyde' duo who held up a Priceline store at North Parramatta in Sydney last October and stole almost 2,000 prescription medicines.
Executive officer at Pharmacists' Support Service (PSS) Kay Dunkley MPS agreed there is greater awareness of the importance of support after violent incidents at work with staff more likely to receive it now than 10 years ago.
Two months ago an off-duty police officer foiled the attempted robbery of a pharmacy in Sussex Inlet, on the NSW south coast, by a man, 25, demanding cash wearing a P2 mask, gloves and carrying a replica gun.
At the Ascot Vale Pharmacy in Melbourne last year, owner Jane Mitchell MPS offered counselling after a security guard was threatened with a machete and tied up, and staff were forced to hand over cash and prescription medicines.
'Staff were shook-up at the time but handled the situation extremely well. All the staff who accessed the counselling said they found it beneficial.'
When a pharmacy is targeted for robbery or break-in, Ms Dunkley said it was common for those involved to feel distressed for 2–4 weeks. 'People typically feel strong emotions like fear, anger and guilt; in addition, it is common to have recurrent thoughts about the event and to have a sense of being out of control, which may include feeling teary.'
While professional assistance is not always necessary, if symptoms don't lessen with time, Ms Dunkley said professional help should be sought.
'Some people recover best by getting back to their day-to-day activities as soon as possible. Others need to make sense of what happened by talking to family and friends about it,' she said.
Team debriefs, group sessions and one-on-one counselling can all play a role in the aftermath of a robbery.
'One-on-one counselling is important and then following this, we had team meetings and then the staff involved had counselling as a group,' said Ms Mitchell.
CCTV, panic buttons and security windows were baseline security for all pharmacies, she said. 'We have mobile panic alarms and a security guard also. I recommend that all pharmacies have good quality cameras that have good picture quality at night as this has helped us with clear images for police, so the offenders were able to be caught.'
And since? 'We close our doors from 10pm to 6am, with a security guard to open the doors during this time,' she said.
POLICE-RECOMMENDED ESSENTIAL SECURITY MEASURES
Open, uncluttered, well-lit pharmacies deter offenders.
Mount mirrors on corners to help monitor blind spots.
Secured, raised, deep counters provide added safety for staff.
Consider lighting, sensors and minimising hiding places with any rear access.
Install door sensors to alert staff of any entry into the pharmacy.
Monitored alarm systems enhance pharmacy security.
Consider CCTV and panic buttons.
Post warning signs about existing security features.
COVID-19-related aggression
Aggressive behaviour, abuse, threats and objects flung at pharmacy staff have been discussed in social media forums as the COVID-19 crisis in Australia ramped up, initially with panic buying of up to 3 months' supply of prescription medicines, multiple salbutamol puffers and other over-the-counter (OTC) products causing lasting delays in stock replacements.
PSA's National President Associate Professor Chris Freeman said some members had reported feeling 'very stressed' as panic buying continued, even after the federal Government's 18 March introduction of dispensing limits to 1-month's supply for some prescription medicines and OTC paracetamol.
Curtis Ruhnau MPS, PDL director and a partner with wife Margaret in the Emerton Pharmacy in Sydney's west, says his staff have had difficulty coping lately with daily stress and anxiety at work.
'When they have an anxiety attack, I ask them if they want to go home, or tell them to take a deep breath and relax. What else can I do?' Mr Ruhnau said.
'Most of our customers have been great. There's one who's not, a few have been abusive on the phone, but everything seems difficult to handle at the moment. We're doing it tough, and so are many other pharmacists I know.'
Mr Ruhnau's pharmacy opens 9 am–6 pm and, like most small operations, has no capacity for 24-hour operation.
Kevin Ngo, who owns the Keith Pharmacy at Keith, south-east of Adelaide, said there had been some panic among local customers after Victorians passing through had tried to 'stock up' and bypass the system by sending in a partner or friend. So he simply asked them to authenticate their needs.
'We've had a few verbal altercations … not what you'd could call abuse,' he said.
'Our biggest problem here at the moment [in March] is shortage of supply. We're desperate. I keep asking myself, "What do I do?"'
Beck West, who has managed Barts The Chemist at Hampton East in Melbourne for 11 years, once foiled an armed robbery and has also been punched by a female customer. In the first 3 weeks of March two confrontations involved toilet paper stockpiling and unreasonable impatience with dispensing from a consumer who'd told her 2 years earlier that she wouldn't be back. Since the introduction of dispensing limits, the pharmacy had been incident free. Many consumers were possibly more understanding and polite than previously.
'We can only hope it stays that way,' Ms West told AP. 'These are difficult times.'
Introducing new emergency dispensing arrangements on 31 March, NSW Health Minister Brad Hazzard recognised the vital role of community pharmacists, reminding consumers, 'not panic buy, not abuse staff, and be respectful' of pharmacists in their special place on the frontline, keeping the community safe and well.
PSS-RECOMMENDED SELF-CARE STRATEGIES

DO

Spend time with people who care
Give yourself time
Research trauma impact and what to expect
Keep a routine going – work, study
Return to normal activities
Talk about how you feel/what happened when ready
Do things that help you relax
Do things that you enjoy.

DON'T

Use alcohol or drugs to cope
Keep so busy you work too much
Engage in stressful family/work situations
Withdraw from family and friends
Stop yourself from doing enjoyable activities
Totally avoid talking about what happened
Take risks.
Further resources
References:
Peterson GM, Tan SI, Jackson SL, Naunton M. Violence in community pharmacy in Australia: incidence and implications. Int J Clin Pharm 2011;33(2):264–72. At: www.ncbi.nlm.nih.gov/pubmed/21400069
Crime Statistics Victoria. Recorded Offences. 2019. At: crimestatistics.vic.gov.au/crime-statisticslatest-crime-data/recorded-offences-0
Build your skills with PSA. Visit www.psa.org.au/practice-support-industry/programs/