On 11 July, 7.4 million Australians became eligible for a COVID-19 winter dose after the Australian Technical Advisory Group on Immunisation (ATAGI) widened the eligibility criteria.
All patients 50 years of age and over are recommended to receive a winter dose 3 months after their initial booster, with those aged 30–49 also able to receive the winter dose.
Following the announcement, pharmacists saw a four-fold increase in COVID-19 vaccinations, jumping from 10,000 to 40,000 vaccines administered per day. 
With over 8 million community pharmacy-administered doses delivered to date, pharmacists are now providing up to 45% of daily COVID-19 vaccinations, compared to approximately 15–20% in October last year.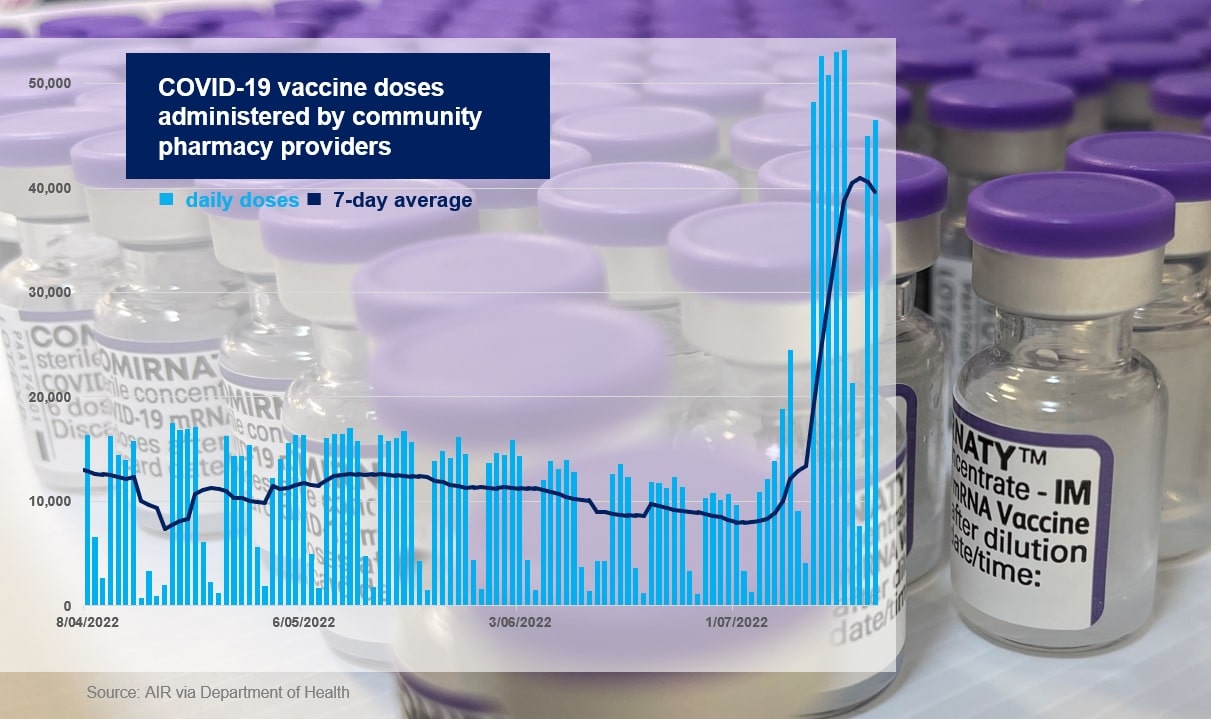 Victorian-based pharmacist Tony Alexopoulos MPS said that prior to the updated recommendations, around 90% of the pharmacy's bookings were for influenza vaccines.
'At the end of the free influenza vaccine period on [10 July], we figured everything was going to die off,' he said. 
'Now, we're doing anywhere from 30 to 40 bookings a day for booster shots. We're doing what we can to [accommodate] everyone.'
Community pharmacist ​​Raymond Truong MPS, based in Adelaide, said despite an increase in demand for COVID-19 vaccines, his pharmacy has been able to facilitate the service, serving up to 50 patients a day.
'Because flu vaccinations have slightly dropped off, the COVID-19 [vaccine] has just replaced that,' he said.
Protecting patients against COVID-19
Perth-based pharmacy intern Grace Shao MPS said patients coming in for their winter dose are keen for protection against the third Omicron wave or to prepare for an upcoming overseas trip.
'It's really good to see that people are trying to help [the community] and protect themselves,' she said. 
Situated in South East Metropolitan Perth, Ms Shao's pharmacy often provides services to retail-centre customers and workers on their lunch break.
'We are doing a lot of walk-ins, so we'll get an influx of people at a time,' she said. 'We do tell [patients] in advance that there are a lot of people in front of them, so they can come back later or [stay] if they don't mind waiting,' she said.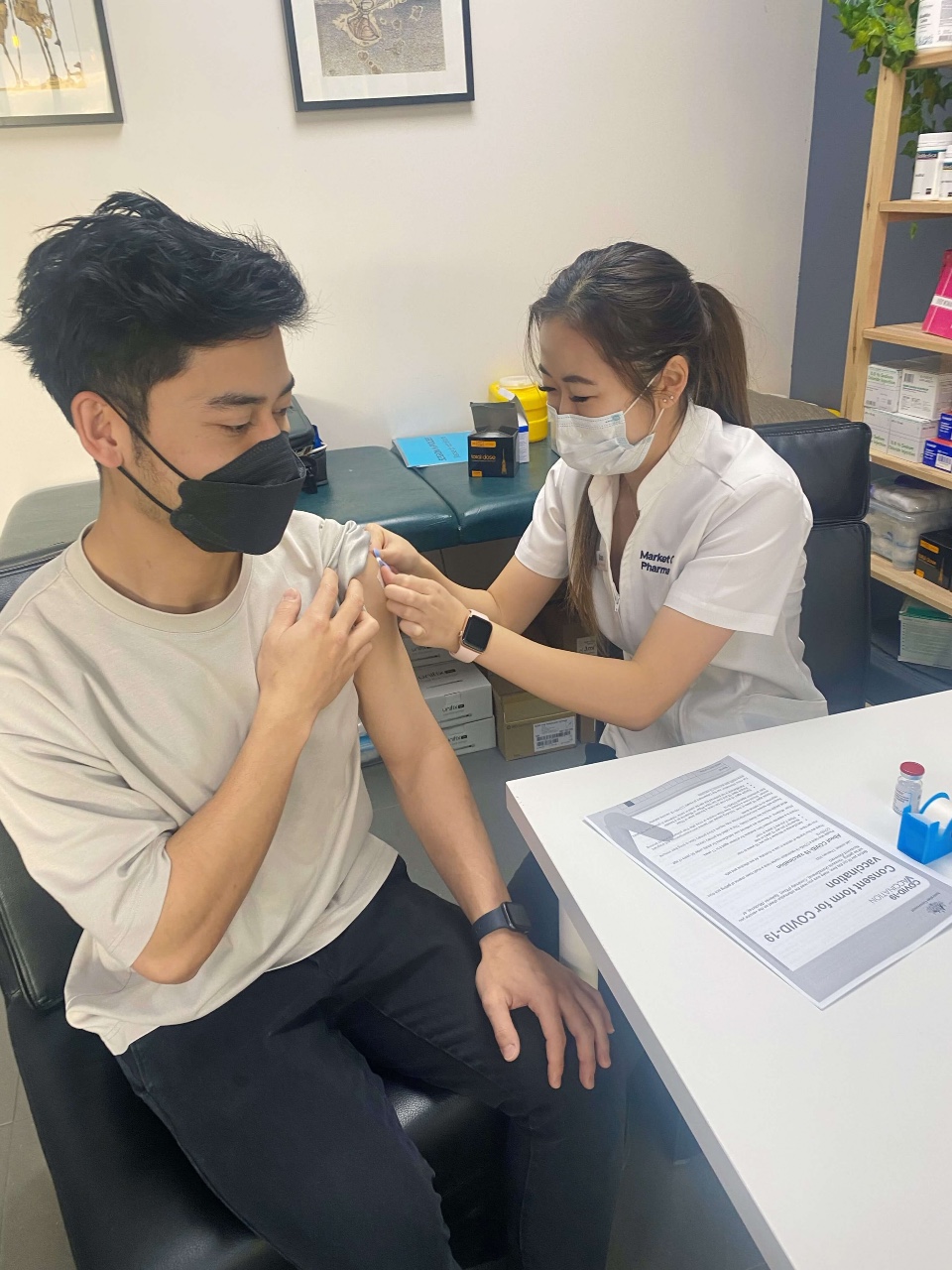 Mr Alexopoulos said he tries to accommodate as many walk-in patients as he can to ensure they are protected against COVID-19 as soon as possible.
'If anybody comes in and says, "I'm considering a booster shot, when can I book?," we tell them we can do it on the spot,' he said. 'We try to minimise any [delay] of having to book and come back later.'
While Ms Shao said most eligible patients have their mind set on vaccination when they enter the pharmacy, some will ask whether they need a winter dose or if it's beneficial.
'We say, if you haven't had COVID-19, or even if you have and it has reached that 4-week mark, then it's best to get [vaccinated] to boost your immunity and to protect yourself, the community and the people around you,' she said.
But when patients aged 30–49 come in for their winter dose, Mr Truong reminds them that the benefit for this age group is still uncertain.
'We do let them know before we immunise them, and they're still happy to get [vaccinated],' he said.
Co-administration of COVID-19 and influenza vaccines
After checking patients' history in the Australian Immunisation Register to identify any gaps, Mr Truong tells them they can be vaccinated for COVID-19 and influenza at the same time.
'Sometimes they're not aware [of that] because they still think there needs to be a 7-day gap, but we do reassure them that it's safe,' he said.
Now that the free influenza vaccine campaign has come to an end in Victoria, Mr Alexopoulos said there are fewer opportunities to co-administer the vaccines.
'We had a lot more double vaccines before because it was free either way, but we're getting financial resistance now,' he said.
'We mention that it's recommended you get your flu shot. But when you tell them [there's a fee], they say "Maybe I'll leave it" or "I'll think about it",' he said.
Increase in Novavax booster inquiries
Since the winter dose announcement, Mr Truong has noticed more people inquiring about Novavax as a booster dose.
'Because it's the newer vaccine and it's protein-based, people think they can get better coverage by [mixing and matching],' he added.
In Ms Shao's experience, Novavax is more popular among older patients or those who are concerned about mRNA vaccines.
'People will come in and say, 'I really want Novavax,' or if they had a side effect of the mRNA vaccine they will ask, "Is there another vaccine that's not mRNA-based?"' 
Although the Therapeutic Goods Administration (TGA) provisionally approved Novavax as a booster dose for patients aged 18 and over in June, Mr Truong reminds patients that according to ATAGI guidelines, Moderna and Pfizer are preferred.
If the patient has a contraindication to mRNA vaccines, experienced side effects from previous doses or has any concerns, Mr Truong works with his patients to determine if Novavax may be an appropriate option.
TGA provisionally approve Moderna paediatric dose
Meanwhile, the TGA has provisionally approved a paediatric dose of Moderna's COVID-19 vaccine, Spikevax, for use in patients from the age of 6 months to under 6 years of age.
However, ATAGI recommendations have not yet changed, and therefore this age group is not eligible for COVID-19 vaccination. ATAGI is expected to provide advice to the government on whether a paediatric vaccine rollout for this age cohort is recommended in coming weeks.