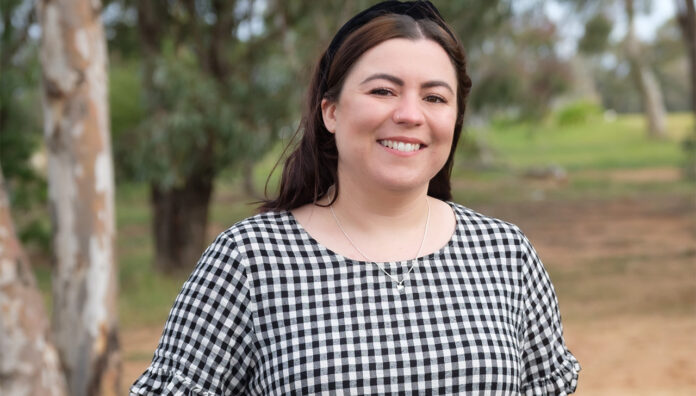 For Lauren Haworth MPS, opening a pharmacy as a global pandemic hit was not great timing. But it was invaluable experience en route to her dream of owning a pharmacy by the age of 30.
Why did you study pharmacy in Tasmania?
I am Apple Isle born and bred and proud of it! I was accepted into both the University of Tasmania and the University of South Australia but chose Tasmania to be closer to my family. My aunt completed her Bachelor of Pharmacy there and I knew studying at a smaller university would give me more personalised learning. Having lecturers who knew me, and were accessible, was important. UTas has excellent placement programs and hospital case study visits.
How did you wind up in Maddingley, half-way between Melbourne and Ballarat?
My partner and I moved to Victoria in 2016 because the likelihood of achieving career goals was much higher on the mainland. I completed my internship with Advantage Pharmacy Group in Warragul, in regional Victoria, before full-time locum work for the group. As a newly registered pharmacist, the opportunity to work in diverse types of community pharmacies in metropolitan and rural locations all over Victoria was invaluable.
What about the next step?
I sent a message to the owner of the pharmacy closest to where I was living in Ballarat, offering my services as a weekend locum. After 18 months, the owners asked me to take charge of a new pharmacy in Bacchus Marsh. The opportunity to open and build up a new pharmacy, and move into management, was one I could not pass up – especially because it came with a future ownership opportunity. In January 2020, we opened Terry White Chemmart Maddingley, co-located with a medical centre, literally on the edge of a paddock. There are no other shops around it (yet) but it's a big growth area. It has been a great first 18 months, but I would never recommend anyone open a new pharmacy 2 months before a global pandemic hit.
How has the pandemic changed the way you interact with consumers?
I certainly hadn't provided healthcare from behind a Perspex barrier before last year. Our pharmacy is unique in this respect as we don't know anything pre-COVID. We opened 2 days after the very first case was recorded in Australia. We were also on the lucky side of the ring of steel. We were also in the first major town outside Melbourne's COVID border. A number of consumers lived on the other side, so I wrote many letters for people, confirming they were customers and allowed to travel through the patrolled border.
Another unexpected adjustment was finding the balance between yelling at customers, so they hear me through masks and shields, while ensuring privacy during medicines discussions.
Have there been any good changes from the pandemic?
Absolutely! We have become so much more resilient and accessible in the way we deliver healthcare. We now offer a drive-through pick up service. Families regularly use it, so they stay with kids in the car; also those with cold and flu symptoms, and to mitigate risk from anyone who may have been tested for COVID at the clinic next door. Our home delivery service has had a massive uptake. Some days, 10–20% of our script volume is delivered directly to homes. One day recently we served more customers via delivery than in-store.
What precautions were taken to stay ahead of possibly infectious consumers?
During the July lockdown, our largest local school and several local businesses became hotspots, and more than 1,000 families were forced to isolate. Our delivery service was useful with staff trained to be vigilant when delivering. They knocked, stood well away from the door, and asked, before approaching, if the person who answered was in isolation. We worked particularly with COVID-positive consumers to deliver medicines safely and securely. At the same time, people wanted to get vaccinated. We were inundated, but had not been given the go-ahead at that time. Thankfully, we have now started.
And the dream?
I turned 30 in June. We started the buying- in process in July/August so I will be about 30 and a half when I officially sign on.
DAY IN THE LIFE of Lauren Haworth, Pharmacist in Charge at TerryWhite Chemmart, Maddingley, VIC.
8.00 am – Open up
Prepare for early morning before-school rush and complete any overnight orders via our app. Choose the store playlist. Pop or rock today? Hmm….
9.30 am – Patient consulting
Speak with woman aged 30, with heavy, extended period bleeding. Prescribed Mefenamic Acid for 3–5 days per cycle, she is worried about impact on attempted conception. Discuss blood test results, indicating low iron levels and how to increase them via alternative dietary options. Doctor advised her to eat red meat, but she is a vegetarian.
11.30 am – Double checking
Deal with script, handed in by wife of man, 48, a week post-surgery who was discharged on oxycodone 5 mg 1 q4h prn and tapentadol IR 50 mg 1 up to QID prn. GP added a follow-on script for tapentadol SR 50 mg 2 TDS. I call doctor and confirm with her that script should have read 1 BD, because she wanted slow-release coverage with IR prn. I advise the patient.
1.00 pm – Palliative care
Collaborate with GPs next door regarding new palliative care patient. Organise required medicines to go with afternoon delivery. We facilitate a lot of this on behalf of families of those patients to ensure to maximise family time and minimise stress.
4.30 pm – A first for me
Set up and dispense my first-ever script from the My Active Script List. Now patients will be less stressed about accidentally deleting repeat tokens and it will help make distanced healthcare (delivery or drive-through), particularly in a COVID-19 world, much easier. A momentous day!
6.00 pm – Cross your fingers
A patient on CPAP has called about the possibility of postponement of upcoming bariatric surgery. Her surgeon is concerned about her oxygen level drop during a pre-surgery sleep test. Recommend, with concurrence of surgeon, adding a pulse oximeter to her CPAP for a few days to test it. Set up oximeter and cross fingers and toes the surgery can proceed. She has waited long enough.
8.00 pm – Home and the dog
Time to shut up shop and head home. I love to take Murray, my beautiful Airedale Terrier, for a leisurely evening walk to round out my day.
Explore new paths at www.psa.org.au/careerpathways