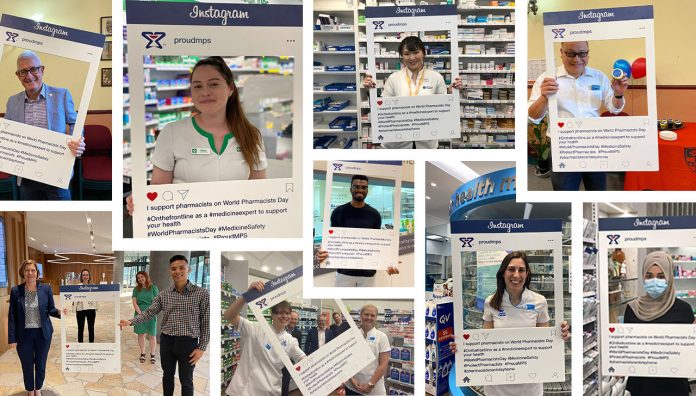 A pandemic may have prevented traditional face-to-face events, but it didn't stop pharmacists from across the country celebrating the 11th annual World Pharmacists Day last week.
Australian pharmacists took to social media to share their pride in the profession, while others, including politicians and health leaders, broadcast their own messages of thanks and support.
Federal Minister for Health Greg Hunt, who announced a new pharmacy-focused research grant and extensions to COVID-19 medicine-related emergency measures on the day, took the opportunity to thank Australia's 31,000 pharmacists who kept more than 5,700 pharmacies running during the pandemic. 
'We know the challenges, we know the stresses and yet, you've done it,' he said.
The government had assisted with measures such as the Home Medicines Delivery Service and fast-tracking electronic prescriptions, he said, but pharmacists had helped by 'taking on those initiatives and making medicines available to the people of Australia'.
'[World Pharmacy Day] is a day to recognise the courage, the dedication and the professionalism of our extraordinary Australian pharmacy community,' he added.
Shadow Minister for Health Chris Bowen marked the day with a visit to Chemistworks Wetherill Park in New South Wales, where he spoke to owner John Bronger FPS.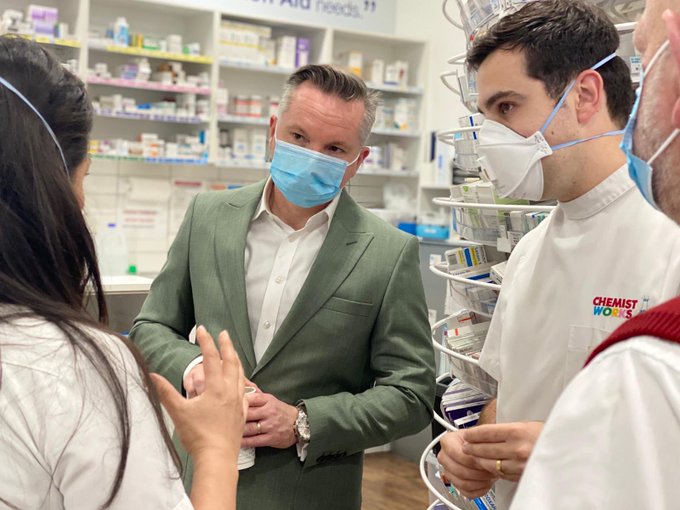 'To all members of the PSA, happy World Pharmacists Day,' Mr Bowen said.
'Thanks to all pharmacists across the country for everything you do, particularly during COVID and particularly as we roll out the vaccine.
'There's plenty to do, whether it's diabetes or obesity or comorbidities across our communities, I see pharmacists playing an absolutely vital role in promoting the health of Australians.'
Mr Bronger said he was excited about the increasing role of pharmacists across the country.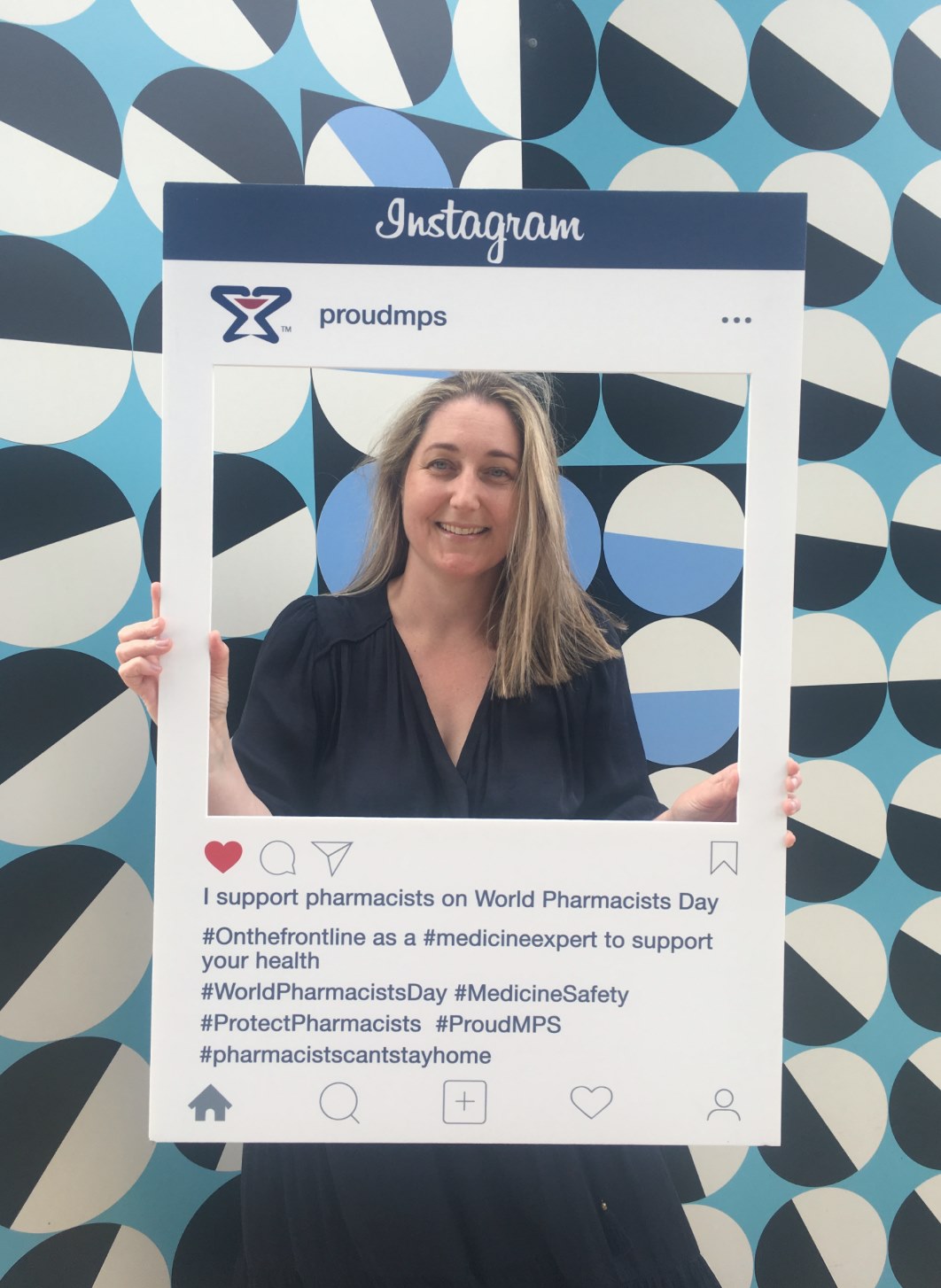 'You can see in pharmacies that we [deal with] lots of things like sleep apnoea and compounding,' he said.
'I think the future of pharmacy is growing as the population ages, and we're very pleased to … improve the health of all Australians.'
The only pharmacist in Federal Parliament, Emma McBride MP MPS, also gave a shoutout to 'all pharmacists, wherever they work, who have been on the frontlines of COVID-19. You're doing an amazing job, we recognise you and really respect and value the work you're doing,' she said. 
'The theme of World Pharmacists Day this year is transforming heath – that's what each and every pharmacist is doing every day.' 
Making a difference
ACT Health Minister Rachel Stephen-Smith paid a visit to Steven Nguyen MPS at Red Hill Pharmacy in Canberra.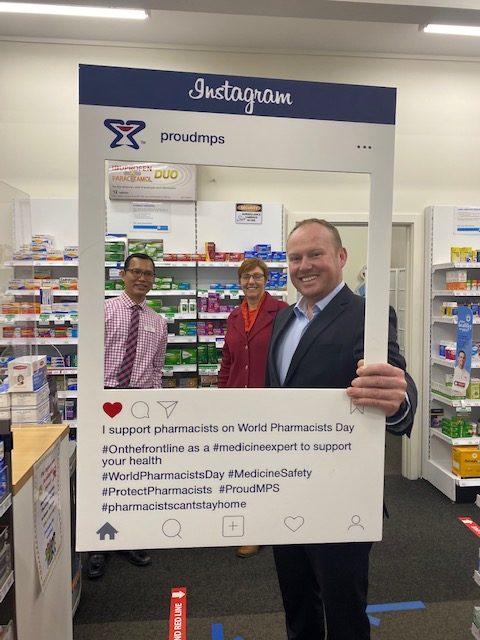 '[She] appreciated the role and work in healthcare of pharmacists, especially during the difficult time of the bushfires last year through to the COVID pandemic,' Mr Nguyen told Australian Pharmacist.
'She [said she] wishes that pharmacists will continue our important role and be more involved in the future in terms of caring for our patients and community.'
Mr Nguyen said the most difficult part of working in community pharmacy this year had been keeping up with the myriad practice changes.
'The most challenging aspects were the difficulty in communication, the collaboration with other healthcare professionals, and the change of IT technologies and regulations,' he said.
'We have been spending a lot of time on the phone to clarify things with GPs. We also had to upgrade our computer hardware to meet the changes in communication and self-learnt online with all the regulatory changes.'
Despite the challenges, Mr Nguyen has found great joy in interacting with his patients and 'the good feeling received when helping a patient to overcome an issue'.
Such interaction is also a highlight for Dennis Fardy MPS, who has owned and operated Long Jetty Pharmacy on the NSW Central Coast for nearly 30 years.
Specialising in the provision of aged care services, the pharmacy supplies medicines to facilities from the far south of the coast all the way to the lower Hunter Valley and Newcastle areas, along with dose administration aids to the general public.
'We enjoy that service,' Mr Fardy said.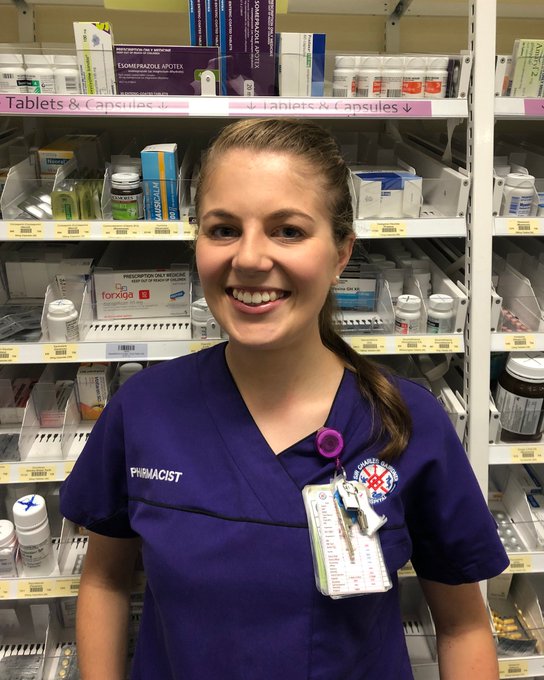 'We love the people and we get on so well with them and love having a chat. We're a pharmacy they come into every day if they like, and can have a chat and enjoy our company.'
Hospital pharmacist Jo Armstrong MPS from Sir Charles Gairdner Hospital just outside Perth, told AP that what she enjoys most about her role is being equipped to help patients at a vulnerable time.
She said World Pharmacists Day was a chance to reflect on this important work.
'[It] is an opportunity to reflect upon the work that we do to help our patients, celebrate our profession and advocate for our role as medicines experts who are best placed to optimise and promote the safe and effective use of medicines,' she said.
Looking to the future
The PSA National President Associate Professor Chris Freeman said 2020 had been an extraordinary year, one in which pharmacists had gone above and beyond to serve the community under significant stress. 
'Pharmacists have remained accessible, approachable and have put themselves in harm's way to ensure that patients have had the care they need, when they need it,' he said.
I am so very proud to be part of this #pharmacist profession. Enjoy your day. Reflect on your successes and celebrate your achievements. #ProudMPS #WorldPharmacistDay2020 #medicineexpert pic.twitter.com/qRGAKsesfX

— Chris Freeman FPS (@topherfreeman) September 24, 2020
'Our profession is the bedrock of many parts of the health system, and as an essential service has been called upon by governments and the public to protect the most vulnerable in our society and to continue to care for patients.'
A/Prof Freeman said pharmacists had been the 'glue that has kept many parts of the health system functioning during difficult times', which should be acknowledged.
Pharmacists should be able to practice to full scope, he said, and receive appropriate remuneration for their expert skills and training.
'While [World Pharmacists Day] is a time for us to celebrate our profession and reflect on the past 12 months, it is also an opportunity for us to look forward to the next year and beyond,' A/Prof Freeman added.