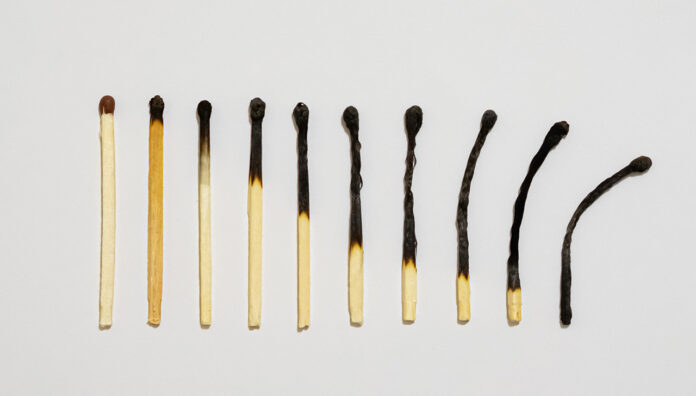 Pharmacists are experiencing increasing levels of burnout due to COVID-19 related stressors, according to the results of a new national survey.
Between late April–June 2020, researchers from the Australian National University (ANU) and the University of Sydney surveyed 647 pharmacists with more than 10 years' experience from both the community (40%) and hospital (42%) sectors.
Rates of emotional exhaustion and depersonalisation were found to be higher than in pre-COVID-19 times, with the biggest contributing factors including medicine supply issues (41%), increased workload (35%) and difficult patient interactions (24%).
While male and female respondents experienced similar levels of emotional exhaustion, depersonalisation was more prevalent in men through feelings of negativity, cynicism or disconnect.
Besides the uncertainty and increased workload facing pharmacists over the past year, lack of recognition has proven to be a dangerous undercurrent.
'We haven't necessarily been recognised as frontline healthcare workers,' Karlee Johnston, lead author of the study and Lecturer in Pharmacology at ANU told Australian Pharmacist. 
'And there's a lot of anecdotal data to support that, certainly from the pharmacists I've spoken to during interviews.'
In a 'black hole'
Consultant pharmacist and pharmacy manager Karalyn Huxhagen MPS, from Mackay in Queensland, knows the toll burnout can take on one's life all too well.
'It put me into a black hole,' she told AP. 
'I was the professional programs manager of a large group of pharmacies, but I was no longer able to come up with innovative ideas for the business or function as a team leader.'
Feeling under stress as the business was going through some complex issues that she was obligated to help solve, Ms Huxhagen lost all her drive, enthusiasm and confidence, despite being in the business for 28 years. 
'I'd gone from leading a workforce of 110 employees to just surviving. I lost my get up and go and my love of pharmacy.'

Karalyn Huxhagen MPS
'I just didn't want to keep going to work and I kept saying to my husband, "I can't keep doing this. I can't go back. I just want to walk away",' she said.
After leaving her role, Ms Huxhagen went back into a community pharmacy where her feelings of burnout worsened. 
'I was doubting myself and always double-checking everything,' she said. 
'I'd gone from being really high-functioning and able to lead a workforce of 110 employees to just surviving. I lost my get up and go and my love of pharmacy.'
When pharmacists who are burnt out experience depersonalisation, they can lose empathy and assume a mechanical approach to their work, said Kay Dunkley MPS, Executive Officer of the Pharmacists' Support Service.
'If they are burnt out, they're not working at their optimum,' Ms Dunkley said.
'They don't have the ability to be flexible and adaptable in their relationships with patients, and they can be irritable and find it hard to focus, making errors more likely.
'They can become very hard line about everything, making the pharmacy an unpleasant place to be for their colleagues,' Ms Dunkley added.
Support and self care
Being able to recognise the signs of burnout in yourself and your colleagues is a crucial first step.
'Just being aware of what you're experiencing and feeling and making a change so you can look after yourself is a really key thing,' Ms Dunkley said.
Depersonalisation due to burnout can be difficult to detect, but Ms Johnston said there are certain signs pharmacists should be aware of.
'It can be hidden really well by those suffering it,' she said.
When it comes to your colleagues, it's important to pay attention to the little things.
'Those comments where people might say, "How annoying is this guy?" can show the [pharmacist] is disconnected from what they're doing,' she said.
'They might even come from people who you don't necessarily pick up on as experiencing exhaustion.' 
'Being aware of what you're experiencing and feeling and making a change so you can look after yourself is key.'

Kay Dunkley MPS
Once a person has reached burnout stage, they require a complete break from work to reset.
'Seeing a doctor or counsellor to get some professional mental health advice may be beneficial,' Ms Dunkley said.
Apps and services dedicated to supporting healthcare professionals through their unique challenges can provide an additional layer of support.
'TEN by the Black Dog Institute is an e-health hub developed by health professionals, for health professionals,' Ms Dunkley said.
Peer support groups such Hand-n-Hand can also provide a safe space for pharmacists to discuss challenges with like-minded individuals outside of the workplace.
Ms Huxhugen said that it took a while to dig herself out of the rut, with the help of family, friends and some psychology.
'I got absolutely no support from the workplace so had to rely on people that knew the real me,' she said. 
'I listened to them and, with the help of my psychologist, I was able to start believing in myself again, know that I was capable of being a pharmacist, and that I wasn't making errors.' 
Practice culture
Establishing a workplace culture where it's okay to take time off when you need it is also key.
'It's important to have a safe workplace environment where people can go to their boss and say, "Look, I'm really struggling at the moment, I think I need to take a bit of time off" without being made to feel guilty,' Ms Dunkley said. 
This can be difficult if you're a pharmacy owner or sole practitioner, however. Partnerships in pharmacy practice make it easier for people to step away if needed, Ms Dunkley said.
Adequate staffing levels can also help to ease the pressure, including having enough staff if someone needs to take sick leave and allowing for rostered days off.
'It's hard, because pharmacies are obviously financially under pressure, but it's important to look at what systems are in place to make things as efficient as possible,' Ms Dunkley said. 
'This includes using support staff to do some of the clerical work, say, with vaccinations, so pharmacists can focus on administering vaccines and talking to patients about adverse effects.'
What helped Ms Huxhagen move forward professionally was downsizing, so she could work at a manageable pace, along with developing strong partnerships in a highly supportive and rewarding workplace.
The day she resigned from her community pharmacy role and was determined to turn her back on the profession, she received two job offers.
'The one I chose was to lead a much smaller organisation than where I'd come from, so I didn't have this huge weight of running five or six pharmacies, just one,' she said. 
'The pharmacy owners were just so supportive. If I rang and asked for help, they gave it to me, and they kept saying "you've got this, you know how to do this, we trust you".' 
She also makes time for the aspects of pharmacy practice that she is passionate about, something her partners fully support.
'I'm physically present as the pharmacy manager 3 days a week, but the rest of the time I focus on medicine management and consulting, which really gives me pleasure as a pharmacist,' she added.