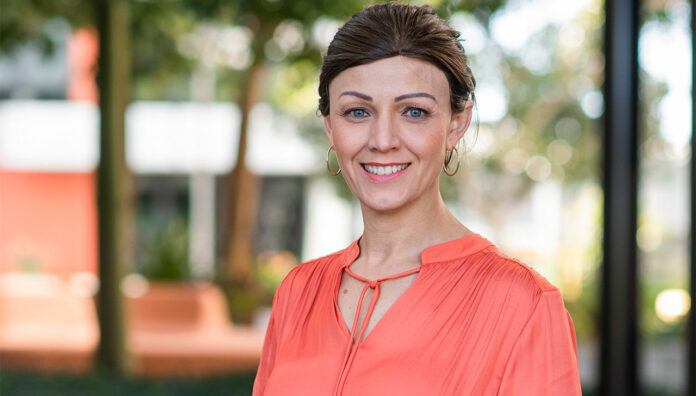 PSA's 2020 Queensland Pharmacist of the Year Bridget Totterman is the Chief Operating Officer of the White Retail Group. She leads and manages seven pharmacies and eight medical practices. And she owns another four pharmacies herself.
Wh
at made you decide to become a pharmacist?
My mum was a nurse and had a grounding in healthcare. She suggested pharmacy in my final years at school. With a wide range of interests and comfortable engaging in conversation with pretty much anyone, my mum pointed out that pharmacy seemed like an industry which would give me the opportunity to work in these areas. She was right.
What specialisation appealed to you?
I love every aspect of human connection to which pharmacy introduced me. From chatting to a mum about a body wash for her baby with eczema, and being able to help her understand the condition better; to bringing health information to the public; assisting carers who need help managing the medicines for their loved ones; working with team members, helping them develop in their chosen career – seeing them bloom; and working with the most amazing pharmacists and learning from them.
What is the most satisfying part of your role?
Seeing improvement. I love that we started the Queensland Pharmacist Immunisation Pilot (QPIP) for pharmacist-administered flu vaccines and now we can do it Australia-wide. I love seeing an intern who was nervous counselling on a particular medicine regime, absolutely nail it after a focused training session. I love seeing a pharmacy manager give a speech at a staff meeting that rallies the whole team to front up to work every day to assist the community during the pandemic. I also love that every day the government understands a little better, the vital role pharmacists have in the healthcare system and how they need to be recognised and remunerated for the amazing work they do.
By what route did you wind up at the White Retail Group?
White Retail Group is owned by Terry and Rhonda White. They asked me to come on board and manage their pharmacies, after I had been a managing partner at TWC Brookside for 9 years. This led me to the White Retail Group where I began overseeing the management of the pharmacies and medical centres and then took over the support office as well, which offers many centres payroll, IT and finance services. Rhonda White told me: 'You build a reputation by what you do every day and if you do your best … someone is always watching and will give you an opportunity, so say "yes'". I wound up here by saying 'yes'.
What is the greatest satisfaction you've had with a patient interaction?
Helping a young mum of six on her journey to overcoming addiction to an S3 medicine. It took months. She was abrupt and defensive about her regular use, but I was determined to win her over. I engaged her in conversation, showed empathy and concern (not judgement) at her story, which involved domestic violence and one child in juvenile detention. I welcomed her by name each time she came in. Eventually she divulged that the medicine helped manage her pain and get housework done but also made her tired, moody and snappy with the kids. After 3 months I called her GP about care plans and subsidised psychology support and physiotherapy. A walking group and weight loss in time led to her ceasing the medicine after about a year.
Any advice for ECPs?
Keep up the amazing passion you have for our industry. Don't be too rushed – there are lessons to be learned along the way. And don't compare your beginning to someone else's middle. Make your own path.
And finally, what is your dream?
I have three beautiful sons and an amazing husband – their interests and hobbies keep me busy enough. My dream? I am living it. A loving, happy family and a challenging and rewarding career. 
DAY IN THE LIFE

of Bridget Totterman MPS, COO White Retail Group and 2020 Queensland Pharmacist of the Year.

5.30 am – Rise and shine

Exercise, make lunches for the kids and always a healthy breakfast.

7.30 am – Off to school

Take the kids to school. They grow up so fast.

8.30 am – In the office in Hamilton

Start the day meeting our shop fitter about a refresh planned for one of our pharmacies. We discuss design and potential workflow. Afterwards I conduct a team meeting in the support office (accountants, IT, payroll staff) and deliver an update on COVID, discussing the need to stay diligent with hand washing and cleaning.

10.30 am – Managerial meetings

Drive to a local medical centre. Interview a GP interested in working in one of our medical centres. Then on to one of my pharmacies to assist a manager preparing for a QCPP assessment. On to another pharmacy to help another manager with roster and wage management.

1.30 pm – Reviewing procedures

Observe and review procedures in the pharmacies for the flu clinics and check clinic rooms are at a high standard. Check in with staff on various issues. For example, I am currently asking QLD pharmacies how they are going with UTI Pharmacy Pilot (UTIPP) – getting their feedback for the UTIPP Steering Committee.

3.30 pm – Planning and preparing

Use a quiet moment to prepare notes for a lecture I am due to give soon on professional services at QLD University of Technology. I often use this time of the afternoon to respond to calls for help from any pharmacy or practice manager. I also take the opportunity to begin planning for a regular managers' meeting, where we upskill and train the managers on various topics in pharmacy.

5.30 pm – Heading home

But my phone is on 24/7 if the people on the frontline need me.
Explore new paths at www.psa.org.au/careerpathways