One of the pharmacy profession's biggest events of the year, PSA's annual conference, is fast approaching. While we can't congregate in Sydney as originally planned, PSA21 Virtual will provide the same high-quality education delegates have come to expect. The only difference? You can enjoy it when and where you like. 
With a diverse program of clinical, therapeutic and industry sessions for pharmacists in all practice settings, PSA21 will help grow your medicines expertise. You can even connect with colleagues – and make new acquaintances – thanks to the interactive platform. 
Here are five reasons not to miss PSA21 Virtual, from 30 July to 1 August 2021.
Expert pharmacist speakers
Over the past 18 months, the COVID-19 pandemic has challenged pharmacists like never before. It has also highlighted the valuable role they play as frontline healthcare workers – and their ability to take on expanded roles to support their patients. 
With two education streams over three days, PSA21 offers myriad opportunities to update your skills and knowledge in key areas, from aged care to digital health, pharmacist prescribing, opioid stewardship and pain management.  
There are also career-focused sessions, such as what it's like to work as a GP pharmacist, and forward-looking talks that will delve into the future of the profession.
No matter your interests, you'll find relevant sessions with high-profile speakers, including Debbie Rigby FPS, Dr Jacinta Johnson FPS and pharmacist MP Emma McBride MPS. All will provide take-away skills to implement in your everyday practice.   
Ongoing access to pharmacy education
As a virtual conference, PSA21 makes earning CPD points easier than ever. You can watch the sessions live over 3 days, or at your leisure, as each talk will be recorded and available on-demand for up to 2 years after the event.
You don't need to choose between sessions that are on at the same time, or miss out if you have to work or entertain the kids. You can also revisit sessions as often as you like, which will keep you up-to-date long after the conference ends.
Plus, for the first time, PSA is offering Masterclass Mondays as part of your PSA21 registration. This series of five virtual sessions, held each Monday evening in August, will cover a diverse range of topics and research in the areas of medicines safety, aged care and diabetes, setting you up to further expand your knowledge.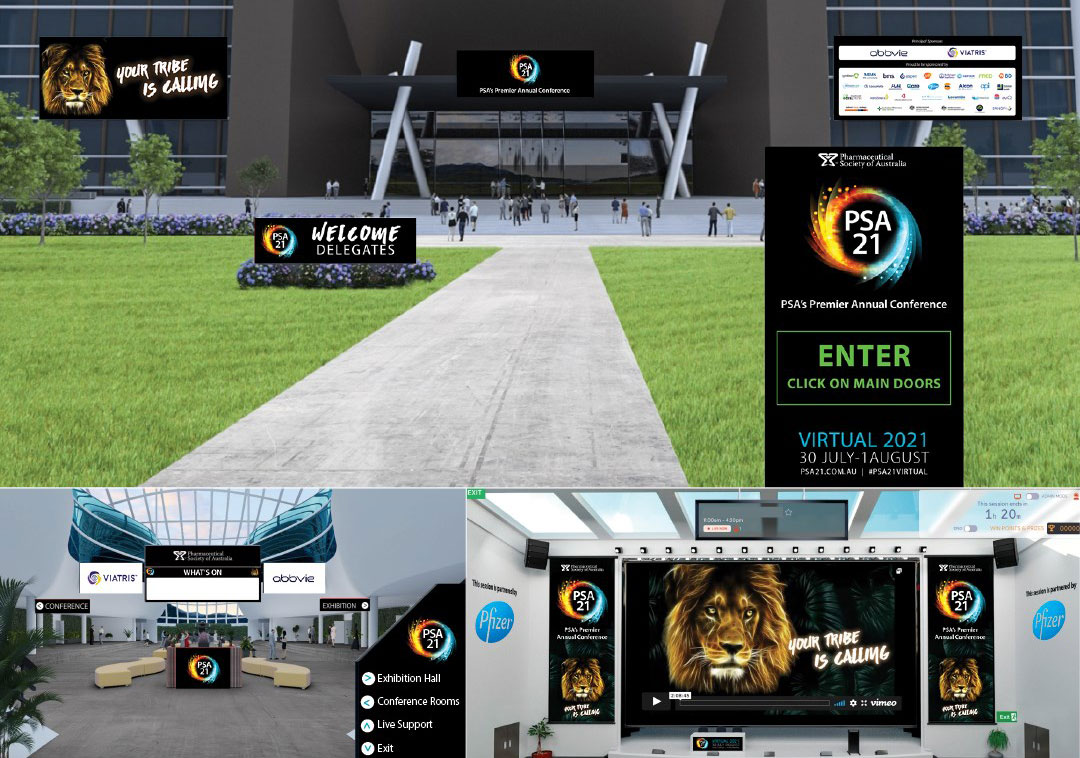 Not another Zoom meeting
If 2020 taught us anything it's how painful video calls can be. But we've come a long way since the first days of lockdown, and PSA21 Virtual is not your average online conference. 
The fully interactive experience lets you move in and out of virtual rooms, have your burning product questions answered by exhibitors in the virtual exhibition hall, and live chat with colleagues and speakers.  
There will even be prizes and competitions throughout the event for those attending on the day. 
Discover new therapies
Busy day jobs don't always leave time to keep up-to-date with the latest therapies and technologies. At PSA21's virtual exhibition, you'll have the opportunity to ask questions, interact with exhibitors and download materials to learn more.
The partners are all organisations that support pharmacists as medicines experts, and seek to increase the roles, recognition and remuneration available by providing high-quality education and skills development. 
Captivating keynote by The Pharmacist
When Dan Schneider's son was murdered in New Orleans in 1999, the small-town pharmacist set out to search for his killer. Not only did he solve his son's homicide, but Mr Schneider also discovered a crisis in his community – opioid addiction.
In an effort to spare other families the pain of losing loved ones to addiction, he began working to stop the flow of opioids into his town. 
Mr Schneider will share his incredible story, detailed in the recent Netflix documentary series The Pharmacist, during his keynote address at PSA21 on Friday 30 July. As well as sharing his personal experience, he will discuss medicines safety and championing change alongside Monash University's Associate Professor Suzanne Nielsen MPS. 
These are just a few reasons not to miss PSA21 Virtual. For more information and to register, click here.