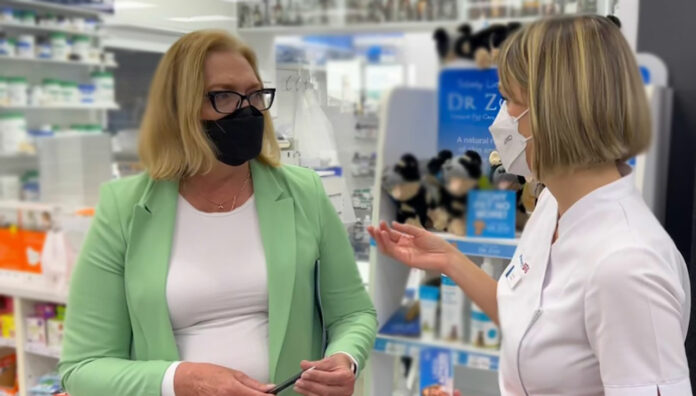 Pharmacists across the country are inviting politicians into their pharmacies to discuss the challenges facing the profession – and to help generate change.
Like many pharmacists, Natalie Kopas MPS, the owner of Tucker Road Pharmacy in Bentleigh, south-east of Melbourne, experienced staffing and supply issues during the pandemic. 
She also believes there should be consistency between pharmacists and general practitioners when it comes to payments for providing vaccinations, and that remuneration models must change to reflect the evolution of pharmacists' roles.
Ms Kopas explained all this to Liberal candidate for Hotham Savitri Bevinakoppa when she visited the pharmacy recently.
'I would encourage anyone interested in the future of their profession – and anyone who has ever had a gripe about any aspect of bureaucracy or remuneration – to take every opportunity to meet with their local political candidates or elected representatives,' Ms Kopas told Australian Pharmacist.
'We cannot expect them to understand the myriad services we provide or the gaps in our current systems unless we take the time to build rapport and provide insights into what pharmacists actually do for the community each day.'
This includes easing the burden on other parts of the health system by offering services such as regular blood pressure monitoring as well as hospital intake and discharge medicines reconciliations. 
'These services are provided for free or on a user-pays basis by most pharmacies,' Ms Kopas said. 'Pharmacy is no longer a "supply only" model, but a healthcare service provider … remuneration models need to change to recognise this.'
Actions speak louder than words
In Western Australia, 777 Pharmacy Jindalee owner Danielle Walker MPS hosted Liberal candidate for Pearce Linda Aitken. 
The pair discussed the valuable role pharmacists play in avoiding medicine misadventure and the pressures faced by community pharmacists during the pandemic. 
As a theatre nurse at Hollywood Private Hospital, Ms Aitken was aware of the healthcare challenges facing the community, said PSA WA State Manager Mayli Foong MPS. However, she was still surprised by the level of care pharmacists provide.
'Linda is passionate about wound care management in the community setting and she was amazed to hear that Lusi Sheehan, Pharmacy 777's wound care expert, has provided training to pharmacists in Perth,' Ms Foong said.
'She asked about pharmacist remuneration for the service, and understands the need for pharmacists to be remunerated on the MBS for the services and consults provided for this patient cohort.'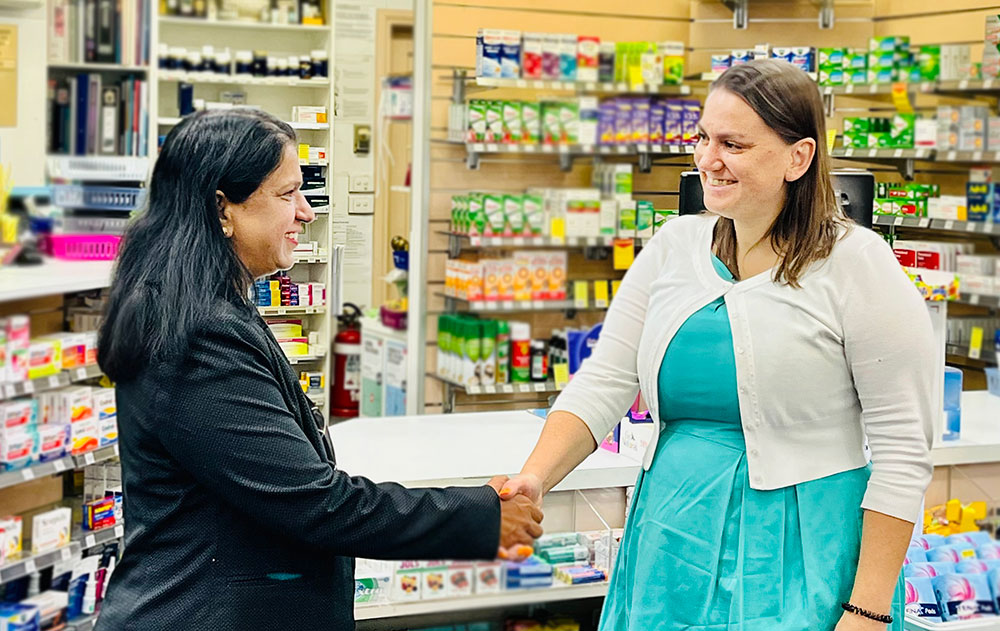 Ms Foong said regular interactions with local politicians could help to create real change.
'Bring your local MPs to your workplace, show them what you do and how you help the community – actions speak louder than words,' she said.
'Invite them to your pharmacy to take some photos for social media, or invite the MP and their office to come and have their flu shot.
'This will build the relationship so that when you have concerns and thoughts to improve the future of pharmacy, the office will know you when you call.'
How can you make a difference?
For those who don't know where to start, Candice Burch, PSA's Manager – Public Affairs and Communications, and a former member of the ACT Legislative Assembly, said the best way to start is to 'just reach out' via email or through social media.
'It's really important that your local representatives have the opportunity to hear from you directly about the issues impacting you and your profession,' she said.
'Many candidates we've spoken to were already aware of a lot of the issues that pharmacists faced through the pandemic, but not necessarily aware of the ongoing workforce challenges and other challenges that pharmacists are facing. It's been particularly important to explain remuneration to them and the ways in which pharmacists are not fairly remunerated.'
Ms Kopas encouraged all pharmacists to get involved in the campaign for fair remuneration.
'My best tip would be to offer solutions and how you envisage things working better, rather than providing a litany of complaints,' she said.
'If you feel hesitant or worried you don't know "enough", remember that no one knows your patients, profession, day-to day-schedule or business better than you, so who better to advocate for a better health system for all?'
Ready to get involved? Learn more here.