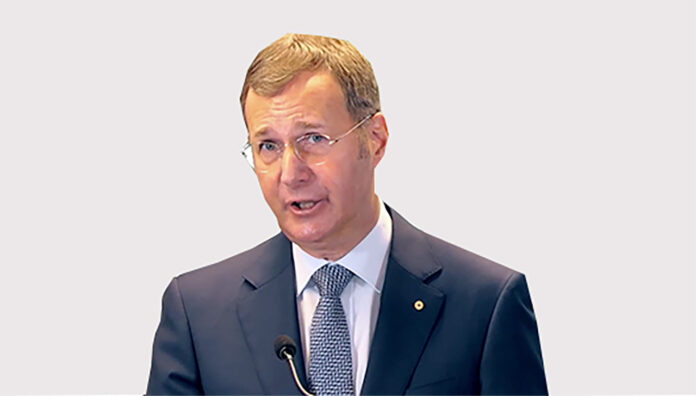 Connecting information across healthcare systems and settings will help improve the quality use of medicines (QUM), according to experts at the virtual 2021 National Medicines Symposium, held on 18 May.
In the opening keynote session, Deputy Chief Medical Officer for the Australian Government Professor Michael Kidd said the issue of medicine safety is not a new one.
'At least 230,000 admissions every year may be caused by a patient taking too much or too little of a medicine, taking the wrong medicines, or taking medicines which interact badly with each other,' he said.
'The estimated economic cost is in the billions, and that of course, does not account for the pain, the suffering and avoidable deaths.'
As a starting point, Prof Kidd discussed three key areas to improve the nation's QUM. 
'Firstly, monitoring polypharmacy, secondly, reducing the harm from high-risk medicines, with a particular focus on insulin, opioid analgesics, anticoagulants and antipsychotics,' he said. 
'And thirdly, improving medicine safety at transitions of care, with a focus on a shared medicines list.' 
But the next piece of the puzzle, Prof Kidd said, is determining the performance indicators.
'How do we know the scale of the problem, and how will we know when we're starting to see significant improvements?' he explained.
It's important to tackle this difficult issue now more than ever, he said, particularly in light of the royal commission findings into disability and aged care.
Late to the twitter party – have been really enjoying #NMS2021 so far!

Great opening keynote by @MichaelKidd5, now loads thought-provoking discussion on evaluating Quality Use of Medicines @APharm68 @hvdow @LeanneWells63 @topherfreeman #QUM pic.twitter.com/xKaKadgAgO

— Dr Jacinta Johnson (@JacintaAdelaide) May 18, 2021
'Both of these very important inquiries have highlighted inappropriate use of medicines to control the behaviour of very vulnerable people, and the need for a much better approach to medicine management,' Prof. Kidd said.
'In the [recent] Federal Budget, the Australian Government committed funding to support the universal adoption of digital technology in aged care in line with the recommendations from the royal commission.
'This will be achieved by improving linkages across settings through the use of electronic national residential medication charts, and hopefully also My Health Record, to better support the transition of aged care residents moving across care settings,' he said. 
Prof Kidd also pointed out that the Australian Government gained agreement from all states and territories that medicine safety and QUM would become the nation's 10th National Health Priority Area, due to the findings of the royal commission.
To support this, the Australian Commission on Safety and Quality in Health Care has been developing a baseline report, with the first phase focused on aged care, which will provide a starting point to begin to measure the progress in improving medicine safety.
Where are we now and where do we need to be?
In a panel discussion on evaluating QUM, PSA National President Associate Professor Chris Freeman said that while data is one aspect, a long-term vision of what success looks like is necessary.
'For me, it's having a data-enabled digital space in which funding frameworks are designed to promote coordination and collaboration across health professionals with consumers,' he said.
It's also essential for clinicians, such as pharmacists, GPs and nurses to be able to use that data to provide services to patients when and where they need it. 
'It's about making sure we have up-to-date, accurate data that people are acting on in real time, and that there's funding mechanisms to support that practice moving forward,' A/Prof Freeman said.
To enable this, digital platforms should be able to record the right information and be user friendly, said Andrew Matthews, Director of the Australian Digital Health Agency's Medicines Safety Program.
'When we're designing systems, we've got to make sure that we've got the end user in mind, and that the data we get is actually useful, logical, functional and easy to input,' he said.
Another key issue is the lack of standardised terminology to record medicines and disease states.
'While electronic prescribing, for example, allows prescribers to input codes in the backend, it's not mandatory through our processes,' Mr Matthews said. 
'So until you've got systems that can talk to each other, routinely using standardised terminology, we're going to struggle to have those systems be able to link up.' 
We also need to understand how this data can be best used in clinical situations.
'My Health Record, for example, is a fantastic system for medicines information, especially around transitions of care, but it has very strict principles and legislation around the data,' he said. 
'It's for clinicians at the time of care, so it's not a data source for research.'
Need to do better to understand where and why #medicationerrors occur – need more systemic approach, current accurate data, appropriate funding @LeanneWells63 @topherfreeman @hvdow @APharm68 @MichaelKidd5 @JenBrockie #NMS2021 pic.twitter.com/leRxWI8m5X

— Debbie Rigby (@DRugby56) May 18, 2021
A/Prof Freeman added that we have a long way to go in terms of information transfer during transitions of care.
'It goes beyond just making sure the discharge summary of the person's admission into hospital is available to healthcare providers within the primary care space,' he said. 
Clinical handover is essential to ensure the patient's care at the point of discharge is continued.
'Areas like community pharmacy and general practice are at a distinct disadvantage, because there is that lack of clinical handover,' A/Prof Freeman said.
'The physical barrier between tertiary and primary care becomes a real challenge.'
To overcome this, A/Prof Freeman said it's important to measure hospital readmissions and the patients' journey upon discharge while ensuring this information is available to local clinicians.
'If there are areas and populations where there are high rates of problems causing people to be readmitted into hospital because of their medicines, then the clinicians can start to act on that information.'
Medicine safety through collaborative care
To demonstrate how medicine safety can be improved when patients are discharged from hospital, Anna Nguyen, resident pharmacist at Victoria's Eastern Health, presented her 2020 research project focused on reducing errors in discharge summaries via a pharmacy/medical collaborative process.
As medicines lists retain information from previous hospital admissions, they can be populated with inaccurate information which heightens the risk of prescribing, dispensing and administration errors. 
Clinical pharmacy workflow does not currently involve a review or input into the doctor-prepared discharge summary medicines list.
The main objective of Ms Ngyuen's research was therefore to assess whether a collaborative process resulted in higher accuracy rates of discharge summary medicine lists compared to historic workflow. 
Over a 10-day period, discharged patients received an intervention whereby an intern pharmacist reconciled the pharmacist's discharge prescriptions against the patient's medicine list. Any discrepancies were relayed to the doctor, who was prompted to correct them by either editing the medicine list or including an addendum to the discharge summary. 
The accuracy rate of the discharge summaries that received the collaborative process was 82%, compared to 16% for the historic audit.
'Our research reinforces the notion that collaborative interventions at the point of discharge yield greater accuracy rates of medicine information compared to when there's no multidisciplinary involvement,' Ms Nguyen said.